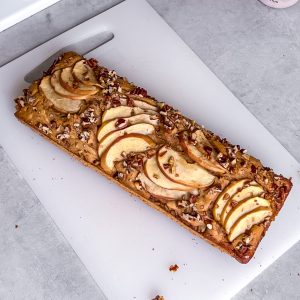 Apple Cake
ingredients
60 ml (oat) milk
140 apple sauce
2 eggs
50 g margarine
1 tsp vanilla extract
100 g sweet red apple (grated)
50 g agave syrup
2 tsp baking powder
¼ tsp baking soda
230 g selfraising flour
1 hand of pecan nuts
1 apple to put on top
instructions
Preheat the oven to 175 C. 

Add the apple sauce, milk to it and mix it.

Add the eggs, vanilla extract, margarine and agave syrup. Mix it well.

Stir in the self-raising flour, baking powder and baking soda. Lastly, pecan nuts

Transfer the mixture in a baking tin.

Cut the pecan nuts in small pieces and sprinkle them on the cake along apple slices.

Put the mix in the oven for 45-50 minutes.

Let it cool for 10 minutes.

If you like a bit sweeter, drizzle honey on top.
notes
Vegan: not possible Seasoning: add a little bit of salt to the dough.
Nutrition
Sugar: 4.4gFiber: 1.5gCalories: 158kcalSaturated Fat: 1.1gFat: 5.3gProtein: 3.9gCarbohydrates: 24.3g
Have you tried this recipe?Share in on Instagram and tag
@eva.koper
!