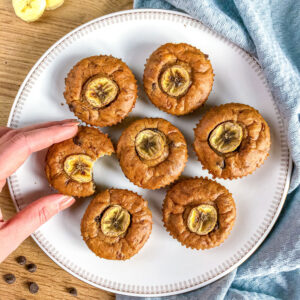 Banana Bread Muffins
The taste of banana bread in the shape of delicious muffins!You can fill them with anything you like! I used chocolate chips.
ingredients
60 g sunflower
50 g maple syrup or agave syrup
50 g sugar replaced by Natrena
2 eggs
300 g packed mashed ripe bananas
60 g milk
1 tsp baking soda
1 tsp vanilla extract
½ tsp salt
½ tsp cinnamon
210 g whole wheat flour
20 g chocolate chips
instructions
Preheat the oven to 165 degrees. If necessary, grease all 12 cups of your muffin tin with non-stick cooking spray.

In a large bowl, beat the sunflower oil, natrena and agave syrup together with a whisk. Add the eggs and beat well. Mix in the mashed bananas and milk, followed by the baking soda, vanilla extract, salt and cinnamon.

Add the flour and oats to the bowl and mix with a large spoon, just until combined. If you'd like to add any additional mix-ins**, like nuts, chocolate or dried fruit, fold them in now.

Divide the batter evenly between the muffin cups, filling each cup about two-thirds full. Add a slice of banana on top. Bake muffins for 25 to 30 minutes, or until a toothpick inserted into a muffin comes out clean.

These muffins will keep at room temperature for up to 2 days, or in the refrigerator for up to 4 days.
notes
Vegan: not possible.  Seasoning: does not apply.
Nutrition
Sugar: 4.9gFiber: 2.4gCalories: 191kcalSaturated Fat: 1.2gFat: 9.1gProtein: 6.4gCarbohydrates: 21g
Have you tried this recipe?Share in on Instagram and tag
@eva.koper
!