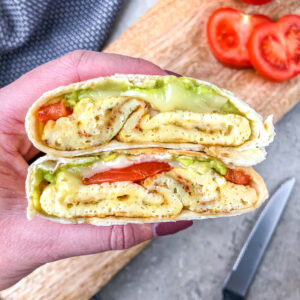 Egg Burrito
A very delicious and healthy breakfast or lunch! It's easy to make and contains all the goodies!
ingredients
1 avocado
4 eggs
1 tomato
2 tortilla wraps
2 slices of bacon
1 slice of cheese
instructions
Beat the eggs and add some herbs (I use omelette seasoning). Put the bacon in de oven if preferred. 

Fry the eggs in a pan.

Meanwhile, mash the avocado and cut the tomato into thin slices. 

When there is still a thin raw layer on top of the egg, fold the sides inwards so that it fits inside the tortilla.

Place the egg in the tortilla, put the tomato slices, avocado and half a slice of cheese on top.

Fold the tortilla and place it briefly under the sandwich maker (or back in the pan).

Cut the tortilla in half and enjoy!
notes
Vegan: not possible. Seasoning: Basil, salt and pepper
Nutrition
Sugar: 2.6gFiber: 7.8gCalories: 438kcalSaturated Fat: 7.8gFat: 26.9gProtein: 20.2gCarbohydrates: 32.2g
Have you tried this recipe?Share in on Instagram and tag
@eva.koper
!