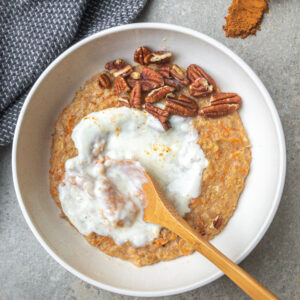 Carrot Cake Oats
The taste of carrot cake in a delicious bowl of oats!Make sure the oats are thick and add some yoghurt to make it creamy.
ingredients
100 g oats
4 medium carrots (shredded)
300 ml milk
1 tsp vanilla extract
1 tbsp agave syrup
100 g yoghurt
15 pecan nuts (optional)
30 g protein powder (optional)
instructions
Grate the carrots

Place all ingredients except the yogurt in a saucepan or microwave until it is the consistency you want.

Put it in a bowl and add the yogurt.
notes
Vegan: use plant-based milk and yoghurt. Seasoning: does not apply.
Nutrition
Sugar: 16.3gFiber: 8.1gCalories: 379kcalSaturated Fat: 2.6gFat: 6.5gProtein: 14.8gCarbohydrates: 64.5g
Have you tried this recipe?Share in on Instagram and tag
@eva.koper
!