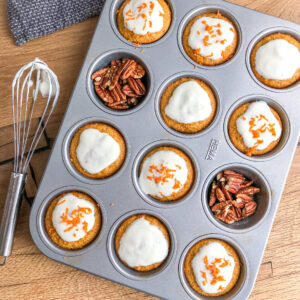 Carrot Muffins
This is one of the most famous recipes on my Instagram. It has been saved over 300 times. So you should definitely give this a try! It contains a lot of protein and the texture is amazing!
ingredients
Muffins
3 eggs
143 greek yogurt
168 g agave syrup
60 ml milk
1 tsp vanilla extract
3 large carrots (or 6 small carrots)
195 g oat flour
1¾ tsp baking powder
1½ tsp ground cinnamon
½ tsp ground ginger
¼ tsp ground nutmeg
½ tsp salt
50 gr pecan nuts (optional)
Frosting
250 g yogurt
42 g agave syrup
1 tsp vanilla extract
instructions
Preheat oven to 175°C. In a large bowl, whisk the eggs.

Add in the Greek yogurt and whisk again until smooth and fluffy.

Pour in the agave syrup, milk, and vanilla extract. Beat the mixture again until smooth.

Add the shredded carrots, oat flour, baking powder, cinnamon, ginger, nutmeg and salt over the wet ingredients. Using a rubber spatula, fold the wet and dry ingredients together just until combined.

Scoop the batter into a greased 12-cup muffin tin. Bake for 20 minutes.

For the frosting, mix the yoghurt, agave syrup and vanilla and mix untill well combined.

Once the muffins have cooled, use a spoon to put a bit of the frosting on top of the muffins.

Top it of with some shredded carrot.
notes
Vegan: not possible. For lactose-free use plant-based yoghurt.  Seasoning: does not apply.
Nutrition
Sugar: 1.6gFiber: 2.1gCalories: 164kcalSaturated Fat: 0.8gFat: 2.5gProtein: 5.1gCarbohydrates: 30.9g
Have you tried this recipe?Share in on Instagram and tag
@eva.koper
!