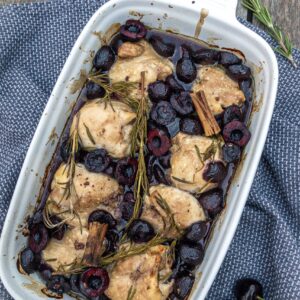 Cherry Chicken
The perfect combination between sweet and savoury!While baking the chicken in the oven, the sweetness of the cherry marinade enhances the flavor of the chicken.
ingredients
300 g cherries
300 g chicken thighs
4 rosemary twigs
½ orange (only the juice)
1 clove garlic
3 el balsamic vinegar
4 el olive oil
1 tsp cinnamon
instructions
Preheat the oven to 200 ° C. Take a sturdy cast iron pan or pot and put the chicken pieces in it. Add the rosemary.

Cut the cherries in half, and take out the pit.

In a separate bowl, combine the cherries, garlic, orange, olive oil and balsamic vinegar. Season with salt and pepper.

Pour this mixture over the chicken. Place the pan in the preheated oven for 40 minutes, until the skin is golden brown and the chicken is cooked.

Serve with green beans and rosemary potatoes. 
notes
Vegan: not possible. Seasoning: no additional seasoning needed.
Nutrition
Sugar: 18.3gFiber: 3.6gCalories: 295kcalSaturated Fat: 3.8gFat: 15.4gProtein: 20.9gCarbohydrates: 22.6g
Have you tried this recipe?Share in on Instagram and tag
@eva.koper
!