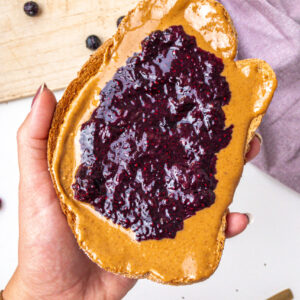 Chia Seed Jam
This is better than a regular jam! It contains less sugars, real fruits and healthy nutrients from the chia seeds.
ingredients
150 g blueberries (frozen blueberries optional)
½ tbsp agave syrup
½ tbsp lemon juice
1 tbsp chia seeds
instructions
Add blueberries to a saucepan and cook on low for about 5-10 mins, stirring occasionally. Mash them with a fork while they are cooking to break them up.

Take the blueberries off the heat and stir in maple syrup, lemon juice, and chia seeds.

Let stand until cooled, then transfer to glass jar for storage. The jam will last for about 2 weeks. 
notes
Vegan: already vegan.  Seasoning: does not apply.
Nutrition
Sugar: 4gFiber: 1.3gCalories: 32kcalSaturated Fat: 0.1gFat: 0.9gProtein: 0.6gCarbohydrates: 5.9g
Have you tried this recipe?Share in on Instagram and tag
@eva.koper
!