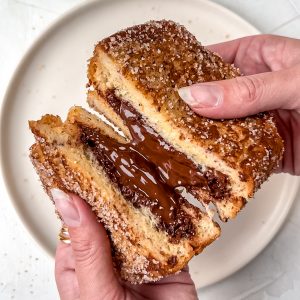 Chocolate Brioche French Toast
Extra thick, and extra tasty french toast filled with a creamy melted chocolate!
ingredients
½ brioche bread
3 eggs
½ tsp nutmeg
1 tsp cinnamon
pinch salt
40 ml milk
1 scoop protein powder (optional)
2 pieces dark chocolate (I prefer Lindt as the pieces are really thin and perfect for stuffing)
1 tbsp cinnamon sugar (optional)
instructions
Whisk together the eggs in a large bowl.

Add the protein powder, nutmeg, cinnamon, salt and milk and whisk till you have a smooth texture.

Cut thick slices (ca. 3 cm) out of the brioche. Carefully, cut a pocket into the side of the bread and stuff it with 1-2 pieces of chocolate.

Soak each slice of bread in your egg wash and place it in the pan. 

Fry it for 3-4 minutes before flipping and frying the other side.

Dip it in the cinnamon sugar for the finishing touch!
notes
Vegan: 
not possible
Seasoning:
add a little bit of salt ?? DUTCH VERSION
½ briochebrood
3 eieren
½ tl nootmuskaat
1 tl kaneel
snufje zout
40 ml melk
1 schep eiwitpoeder (optioneel)
2 stuks pure chocolade (ik geef de voorkeur aan Lindt omdat de stukjes erg dun zijn en perfect om te vullen)
1 el kaneelsuiker (optioneel)
Bereiding:
Klop de eieren in een grote kom door elkaar.
Voeg het eiwitpoeder, nootmuskaat, kaneel, zout en melk toe en klop tot je een gladde textuur hebt.
Snijd dikke plakken (ca. 3 cm) uit de brioche. Snijd voorzichtig een zak in de zijkant van het brood en vul het met 1-2 stukjes chocolade.
Week elk sneetje brood in je eierwas en plaats het in de pan.
Bak het 3-4 minuten voordat je het omdraait en de andere kant bakt.
Dip het in de kaneelsuiker voor de finishing touch!
Nutrition
Sugar: 2.6gFiber: 1.2gCalories: 216kcalSaturated Fat: 3gFat: 8.6gProtein: 21.3gCarbohydrates: 13.4g
Have you tried this recipe?Share in on Instagram and tag
@eva.koper
!