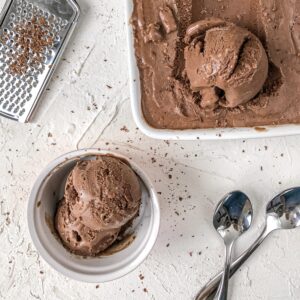 Chocolate Ice Cream
A healthier, lactose-free chocolate ice cream! It is super easy to make and way more delicious than store bought.
ingredients
470

ml

oat milk

470

ml

coconut milk

3

tbsp

cocoa powder

100

g

agave syrup

5

ml

liquid sweetener

6

egg yolks

1

tsp

salt

1

tsp

vanilla extract

100

g

dark chocolate

(70 g melted, 30 g chopped in small pieces)
instructions
In a saucepan, whisk together the coconut cream, milk, agave syrup, cocoa powder, egg yolks, and salt. 

Over medium heat, warm the custard while whisking constantly, just until it begins to steam and is barely bubbling around the edges. Don't let it come to a boil.

Remove from the heat and whisk in the vanilla, liquid sweetener and the melted chocolate until smooth.

Pour the custard through a mesh strainer to remove any bits of cooked egg. Cover the bowl of custard, with plastic wrap, and refrigerate until well chilled, preferably overnight.

Pour the chilled custard into your @Kitchenaid_nl ice cream maker and churn until it has a soft-serve consistency. During the last minute of churning, add the chopped pieces of dark chocolate.

Scrape the ice cream into a lidded container and freeze until firm, at least 8-10 hours.
notes
Vegan: not possible Seasoning: does not apply
Have you tried this recipe?
Share in on Instagram and tag @eva.koper!