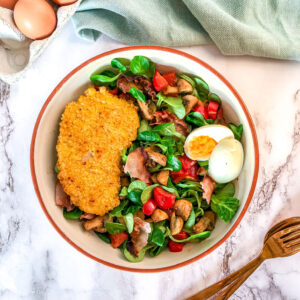 Club Salad
A good salad to combine with greasy food like fries! I always make this salad when I want to eat fries, but I still want to keep it a bit healthy. This way, you still have your fries and crispy chicken, but also your veggies! A good way to compensate right?!
ingredients
100 g lamb's lettuce
4 slices of bacon
2 crispy chicken
250 g mushrooms
2 eggs
1 bell pepper
1 tbsp honey mustard dressing
instructions
Preheat the oven to 200 C. Place the bacon on a baking tray and put in the oven for 10 minutes.

Bring water to a boil and cook the eggs for about 8 minutes.

Cut the mushrooms and bell pepper. I fry vegetables and crispy chicken.

Put the lamb's lettuce in a container and mix everything in.

Eat with pasta if necessary.
notes
Vegan: Use a vegan schnitzel, leave out the bacon and egg.  Seasoning: Season the mushrooms and bell peper with salt and pepper. 
Nutrition
Sugar: 7gFiber: 2.6gCalories: 547kcalSaturated Fat: 9.1gFat: 31.1gProtein: 53.9gCarbohydrates: 11.5g
Have you tried this recipe?Share in on Instagram and tag
@eva.koper
!