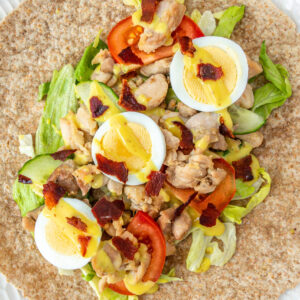 Club Wrap
This meal is perfect when you're craving an easy meal, and a perfect substitute for an unhealthy take away! It is also a perfect base for drinking (based on experience).
ingredients
4 tortilla wraps
300 g chicken thigh fillet (also possible to use crispy chicken)
2 tomatoes
½ cucumber
2 el honey mustard dressing
2 eggs
6 slices bacon
100 g iceberg lettuce
instructions
Bring water to a boil and boil the eggs hard.

Preheat the oven at 200 C. Put the bacon in the oven until crispy (about 10 min).

Meanwhile, bake the chicken in a frying pan and cut the cucumber and tomatoes in thin slices.

Heat the wrap in the oven for 2 minutes.

Fill the wrap with all the ingredients and enjoy!
notes
Seasonig: season the chicken with paprika powder, onion powder, garlic powder, salt and pepper. 
Nutrition
Sugar: 10.3gFiber: 10.1gCalories: 729kcalSaturated Fat: 5.5gFat: 28.8gProtein: 44.8gCarbohydrates: 72.3g
Have you tried this recipe?Share in on Instagram and tag
@eva.koper
!