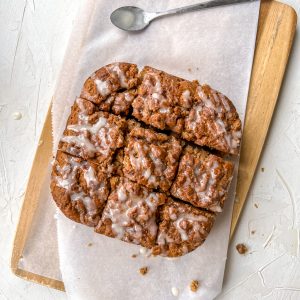 Coffee Cake
A traditional cake to eat with coffee! A cinnamon cake with a sweet crumble on top
ingredients
Cake batter
2 eggs
65 g maple syrup
2 tsp liquid sweetener
2 tsp vanilla extract
150 ml almond milk
80 g (soy) butter (melted)
90 g (soy) yoghurt
180 g all-purpose flour
35 g cornstarch
2 tsp baking powder
¼ tsp baking soda
1½ tsp cinnamon
1 pinch salt
Filling
1 tsp cinnamon
40 g apple sauce
20 g coconut sugar
20 g flour
Crumble
100 g all purpose flour
30 g apple sauce
10 g soy butter
70 g coconut sugar
1 tsp cinnamon
instructions
Crumble
in a small bowl, mix the ingredients for the crumble together. It will be smoother than a crumble. Place it in the fridge while making the dough.
Filling
In another small bowl, mix together the cinnamon, apple sauce, coconut sugar and flour. This should be a smooth texture.
Cake batter
Preheat the oven to 180°C.

In a large bowl, whisk together the eggs, maple syrup, liquid sweetener, vanilla extract, almond milk, soy butter and yoghurt.

Add the flour, cornstarch, baking powder, baking soda, cinnamon and salt.

Add half the batter to a baking dish. Drizzle the filling in top, you can use a skewer to spread it. Add the other half of the batter and add the crumble on top. It might not look like a crumble, but you can create the crumble yourself.

Bake for 45-55 minutes. Let it rest for 10 minutes and drizzle a glaze on top.
Have you tried this recipe?Share in on Instagram and tag
@eva.koper
!