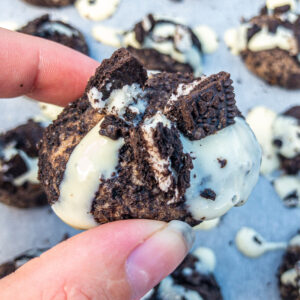 Cookie and Cream Donut holes
Why have donuts, if you can have donut holes?!
ingredients
Donut holes dough
140 g buttermilk pancake mix (or any pancake mix that only involves adding water, but do not add the water!)
62 g unsweetened apple sauce
2 tbsp unsweetened apple sauce
1 tsp vanilla extract
6 oreos
Glaze
122 g vanilla yoghurt
1 tbsp honey
instructions
Preheat the oven at 175 °C .

Crush 3 Oreos. Put them in a bag and smack them with your hand till they're in little pieces, not crumbs!

Mix the pancake mix, apple sauce, vanilla extract and crushed Oreos. Roll into 8-10 balls. The dough might be sticky, wet your hands slightly if needed. 

Place in the freezer for 3 min. While in the freezer, take the cream out of 3 additional Oreos. Crush them into crumbs.

Remove the dough balls from the freezer. Roll each around in the Oreo crumbs.

Bake at for 9-12 min. Let them cool for 10 min.

While cooling, make the donut glaze by mixing the vanilla yogurt and honey. Dip the cooled off donut holes in the yogurt glaze and top of with left over crushed Oreo pieces.
Nutrition
Sugar: 7.5gFiber: 0.9gCalories: 99kcalSaturated Fat: 0.2gFat: 1.2gProtein: 2.5gCarbohydrates: 19.4g
Have you tried this recipe?Share in on Instagram and tag
@eva.koper
!