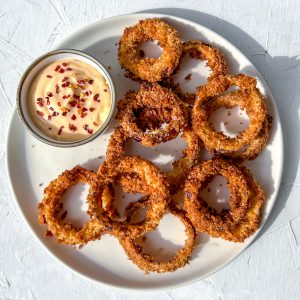 Crispy Onion Rings
A new airfryer recipe, because airfryers are the best 🫶🏼 crispy onion rings has always been a "guilty" pleasure of mine 😍
ingredients
2 large sweet or yellow onion
100 g all-purpose flour
½ tsp baking powder
¼ tbsp salt
¼ tsp black pepper
1 tsp garlic powder
100 ml (oat) milk
2 eggs
200 g panko bread crumbs
instructions
Cut the onion into thick slices.

Whisk flour, baking powder, and seasoning together in the first dish. Whisk milk and egg together in the second dish. Place bread crumbs in the third dish.

 Add the onion rings to the flour. Make sure they are fully covered.

Add 3-4 tbsp flour to the egg-milk mixtures. Whisk till smooth. It should be a lot thicker now. Place the rings one by one in the mixture and cover them.

Lastly, place the rings in the bread crumbs.

Place the rings in the airfryer on 200C for ca. 15 minutes or till golden brown. Make sure to spray them with oil.
Have you tried this recipe?Share in on Instagram and tag
@eva.koper
!