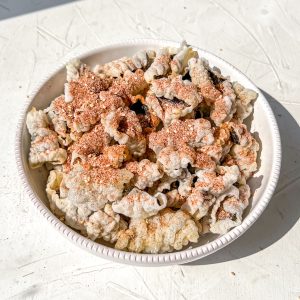 Crispy Seaweed
If you watch my stories, you know I am ADDICTED to that one crispy seaweed snack from the Asian grocery store, so I decided to make them myself as well! 🫶🏼 and they turned out SO GOOD 😍
ingredients
5 seaweed papers
12 quarter rice papers (or 5 round/square rice papers)
1½ tbsp paprika powder
1 tbsp onion powder
1 tbsp sesame seeds
½ tsp powdered sugar
1 tsp cayenne pepper
1 tsp garlic powder
½ tsp salt
½ tsp black pepper
instructions
Make the rice paper wet. Place it on top of the seaweed. Make sure the whole seaweed paper is covered. 

Let this dry. You can do this by laying them in the sun (with 30C outside it took me 30 min-1 hour) or with a blow dryer.

Mix the spices in a bowl in the meantime.

Cut the rice paper in small squares from 2x2cm. 

Heat up oil in a pan and fry the rice paper one by one on the rice paper side for 1-2 seconds!

Sprinkle the seasoning on top and enjoy!
Have you tried this recipe?Share in on Instagram and tag
@eva.koper
!