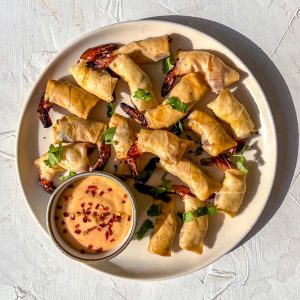 Crispy Shrimp Rolls
Here I am with dreamy crispy shrimps 😍
ingredients
20 medium/large shrimps
4 tbsp fish sauce
3 tbsp lime juice
1 tbsp agave syrup
2 cloves garlic
1 tsp chili flakes
10 g koriander or parsley
1 egg
10 spring roll wrappers (cut in half)
2 tbsp olive oil
instructions
Marinate the shrimps in the fish sauce, lime juice, agave syrup, garlic, chili flakes and koriander. Let them rest for 3 hours in the fridge.

Dap the shrimp dry and roll them into the spring roll sheets (cut them into a triangle). Roll them by placing the tale downwards and fold the upper corner inside. Add a little bit of egg wash at the end to make it stick.

Cover them with a little bit oil.

Place them in the airfryer for 10-15 minutes on 190C.
Have you tried this recipe?Share in on Instagram and tag
@eva.koper
!