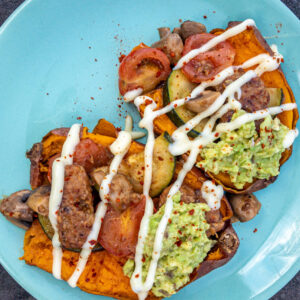 Filled Sweet Potato
This takes only 5 minutes of work, just let the oven do the work! You can fill them any way you like.
ingredients
2 sweet potatoes
1 avocado
125 g mushrooms
100 g cherry tomatoes
1 tsp aioli
300 g chicken or meat substitute (optional)
instructions
Preheat the oven at 200 °C. Put the sweet potatoes in foil (shine side on the inside), prick it with a fork a few times and put it in the oven for 60 - 70 minutes. (Or in the magnetron for 8 - 10 min. without foil. Turn it a few times.)

Meantime, cook the chicken, if necessary.

Cut the cherry tomatoes and champignons, and cook them.

Cut and smash the avocado.

If the sweet potato is ready, take it out of the foil and cut it in half. Fill it with the ingredients and top it of with some aioli.
notes
Vegan: already vegan. Seasoning: salt & pepper
Nutrition
Sugar: 13.5gFiber: 14gCalories: 466kcalSaturated Fat: 4.9gFat: 24.4gProtein: 7.6gCarbohydrates: 62.6g
Have you tried this recipe?Share in on Instagram and tag
@eva.koper
!