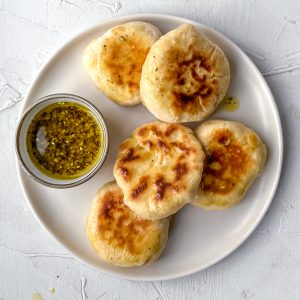 Fluffy Cheese Flatbread
The best combination with flatbread? A cheesy fulling! 🧀🤌🏼 The naan are fluffy and made with only 5 ingredients (no yeast), so they are easy to make! ☁️ Fill them with grated cheese and you got the best breads ever! 
ingredients
Flatbread
340 g flour
2 tsp baking powder
1 tsp salt
325 g (soy) yoghurt
1½ tbsp olive oil
100 g grated cheese
Topping
2 tbsp olive oil
½ tsp zathar spices
2 cloves garlic
instructions
Add flour, baking powder, salt, yoghurt and olive oil to a bowl. 

Knead it still the dough is flexible and not sticky anymore. You might have a add a bit more flour, this can differ every time. 

Create 8-10 balls out of the dough. Flatten the balls with your hands, fill each dough ball with ca. 1 tbsp grated cheese. Fold the dough and close it on top, the cheese should be inside of the dough.

In a frying pan, fry each side of the breads with a little bit of olive oil till golden brown on medium heat. 

Cover it with a mixture of olive oil, garlic & zathar spices.
Have you tried this recipe?Share in on Instagram and tag
@eva.koper
!