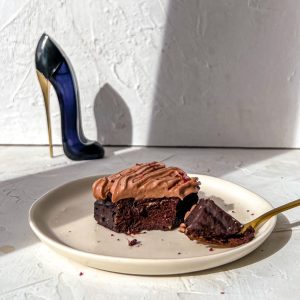 Good Girl Brownie
turning the smell of a perfume into a dessert again! This time the good girl perfume from Carolina Herrera 💗 and omg its the most fudge and delicious brownie I've ever made!! 😍 Smells I used from the perfume: vanilla, coffee, almond, cacao, cinnamon, praline & rose ☁️ 
ingredients
Brownie
120 ml almond milk
85 g melted dark chocolate
25 g soy butter
50 g agave syrup
50 g coconut sugar
2 eggs
⅛ tsp instant coffee
2 tsp vanilla
150 g greek yoghurt (or quark)
80 g oats (oat flour)
50 g cocoa powder
1 tsp cinnamon
1 tsp baking powder
20 g almonds (chopped)
25 g chocolate chips
Topping
240 g cream cheese (or oat sour cream)
2 tbsp hazelnut spread
1 pinch salt
instructions
Chop the almonds (and 25 g of the dark chocolate).

In a sauce pan, heat up the almond milk and soy butter. Make sure its hot, but not boiling. Stir in the dark chocolate till completely melted and smooth.

In a mixing bowl, whisk the egg, agave syrup and coconut sugar till fluffy. 

Add the vanilla extract, yoghurt and instant coffee.

Stir in the creamy chocolate mixture.

Add the oat flour, cocoa powder, cinnamon and baking powder. 

Lastly, stir in the almonds and chocolate chips. 

Layer a baking tin with baking paper. Add the mixture into the baking tin. Bake for 15-20 minutes on 200C.

In the meantime, mix the cream cheese with hazelnut spread. 

Take the brownie out of the oven. Let it cool down for 10 minutes. 

Cut into pieces. Place a dot of the cream mixture on top. And top it with rose salt.
Have you tried this recipe?Share in on Instagram and tag
@eva.koper
!