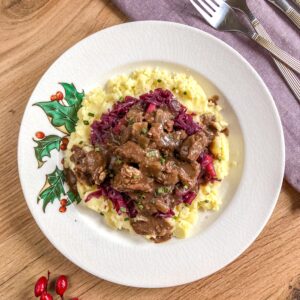 Hachee with Mashed Potatoes and Red Cabbage
A Dutch classic which my mom always makes during the holiday.My mom's recipe is absolutely so delicious!
ingredients
400 beef or hash meat
2 large onions
5 dl beef stock
1 ½ tbsp vinegar
2 bay leaves
2 cloves
2 juniper berries
2 tbsp flour
0.7 gingerbread
50 g chocolate
50 ml port
400 g crumbly potatoes
100 ml milk
400 g red cabbage
1 apple
instructions
Cut the beef into 1.5 cm pieces. Meanwhile, heat butter in a large pan and then add the sliced ​​meat. Add the pepper and salt to season the meat.

Coarsely chop the onion and add it to the meat when it is brown.

Heat the beef stock and then add it to the mixture, along with the vinegar, bay leaves and cloves. Let everything simmer together for at least 2 hours. If the hachee gets too dry during simmering, you can add a little more beef stock.

After 2 hours, add the gingerbread, chocolate and port. Let it simmer for an hour. Season the sauce with the gingerbread, chocolate and port, don't add everything right away, but build it up slowly. The amounts differ each time.

If it is too runny, mix 1 tbsp flour with some sauce from the hash in a separate bowl. And then add this to the hash.

For the potato puree, peel the potatoes, cut them in half and cook for 20 minutes.

Meanwhile, prepare the red cabbage by cutting the apple into pieces, without the peel and heating it in a pan with 200 ml of water in a pan. Add nutmeg and cinnamon. When it is warm, drain the water.

Mash the potatoes and add the milk.
notes
Vegan: Replace the beef with jack fruit, use vegetable stock, use plant-based milk. (I have not tried this version myself, if you try it, let me know what you think!) Seasoning: no additional seasoning needed.
Nutrition
Sugar: 26.4gFiber: 11gCalories: 603kcalSaturated Fat: 7.5gFat: 15.8gProtein: 57.1gCarbohydrates: 58.2g
Have you tried this recipe?Share in on Instagram and tag
@eva.koper
!