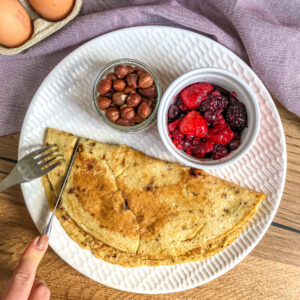 Hazelnut Omelette
The perfect combination of savoury and sweet! Sweetness from the cinnamon and caramelised hazelnuts and savoury from the eggs.
ingredients
4 eggs
40 g hazelnuts
4 tbsp flour
250 ml milk
2 tbsp agave syrup
1 tsp salt
1 tsp cinnamon
instructions
Grind the hazelnuts in a blender.

Caramelise the hazelnuts with the agave syrup over high heat.

Split the egg yolks and egg whites. Keep the egg yolks separate in a bowl and put the egg whites in a tall mixing bowl. Beat the egg whites with a hand blender until stiff.

Mix the flour and milk in the regular mixing bowl until there are no more lumps

Add the egg yolks and salt and stir well

Add caramelised hazelnuts and stir briefly into the batter

Finally add the beaten egg whites and mix or fold them carefully with the spatula, so that as little of the fluff as possible is lost.

Place the skillet over medium heat. For a thick omelette, pour 2 spoons, for a regular omelet, pour 1 spoon of the omelet batter into the frying pan.

Serve with powdered sugar and hot red fruits.
notes
Vegan: not possible. Seasoning: nutmeg, cinnamon.
Nutrition
Sugar: 7.6gFiber: 4.9gCalories: 468kcalSaturated Fat: 5.3gFat: 24.3gProtein: 21.7gCarbohydrates: 45.5g
Have you tried this recipe?Share in on Instagram and tag
@eva.koper
!