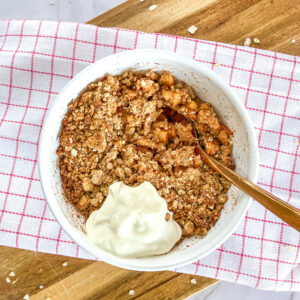 Healthy Apple Crumble
Dessert for breakast without feeling guilty, because it is completely healthy! A crispy crumble covers the sweet hot apple pieces and the yoghurt add a nice creamy twist.
ingredients
Crumble
40 g oats (30 g oat flour, 10 g rolled oats)
10 g protein powder (optional, can be replaced with 10g oat flour)
1 tsp cinnamon
15 g margarine
5 g agave syrup
2 to 3 tsp applesauce
3 drops natrena
pinch of salt
Apples
1 apple
1 tsp cinnamon
3 drops stevia
instructions
Preheat the oven to 180 degrees.

Peel, core and cut the apples into small cubes.

Mix the apple pieces with 3 drops of stevia and 1 teaspoon of cinnamon.

In another bowl, mix the oats, cinnamon, salt, and protein powder.

Add the agave syrup, apple sauce, remaining stevia and cinnamon, and margarine. Knead it with your hands into a crumbly dough.

Divide the apple cubes in an oven dish. Crumble the dough over it.

Bake for 20 minutes.

Add some yogurt if necessary.
notes
Vegan: use plant-based butter and vegan protein powder. Seasoning: does not apply.
Nutrition
Sugar: 12.9gFiber: 6.8gCalories: 377kcalSaturated Fat: 2.8gFat: 15.5gProtein: 13gCarbohydrates: 49.7g
Have you tried this recipe?Share in on Instagram and tag
@eva.koper
!