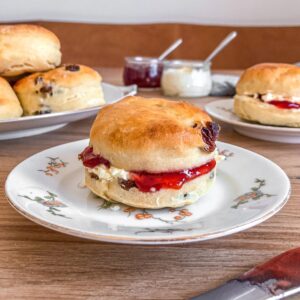 Healthy Scones
A healthier take on the best English scone recipe!It is up to you, if you make the topping healthy as well.
ingredients
350

g

self-raising flour

¼

tsp

salt

1

tsp

baking powder

85

g

margarine

3

tbsp

agave syrup

(or maple syrup)

150

g

low-fat yoghurt

3

tbsp

milk

1

tsp

vanilla extract

1

egg

(beaten)

85

g

sultanas

(optional)
instructions
Preheat the oven at 220 C.

Mix the flour, salt, baking powder and butter untill the butter disappears. Add the agave syrup and make a well in the middle.

Warm the yogurt, milk and vanilla together in a pan (it should be hot and may well go a bit lumpy-looking).

Quickly work it into the flour mix usinga cutlery knife. As soon as it's all in, stop.

Tipthe dough onto a floured surface, then, with floured hands, fold the dough overa few times.

Press outto about 4cm/1½in thick, dip a 7cm cutter into more flour, then stamp out 4rounds, flouring the cutter each time. Squash the remainder lightly together,then repeat until the dough is used up. Brush tops with egg wash, scatter flourover the hot sheet, then lift the scones on.

Bake for 12 minutes until risen and golden. Put an oventray with water underneath the scones for 6 minutes. After 6 minutes, remove the tray and turn the tray with the scones to bake them evenly.

Serve with clotted cream and jam (or yoghurt and chia seed jam if you want the healthier version).
notes
Vegan: use soy-yoghurt, plant-based butter and leave out the egg. Seasoning: does not apply.
Nutrition
Sugar:
1.7
g
Fiber:
0.7
g
Calories:
241
kcal
Saturated Fat:
1.1
g
Fat:
5.2
g
Protein:
2.6
g
Carbohydrates:
45.2
g
Have you tried this recipe?
Share in on Instagram and tag @eva.koper!