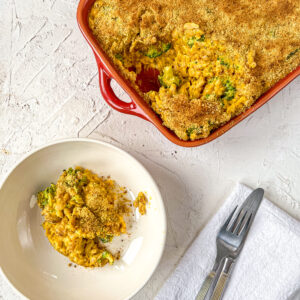 Mac 'n Cheese
A more nutritional and vegan Mac & cheese recipe! By using ingredients such as nuts, veggies and spices, the sauce gets the same flavour as cheese!
Equipment
Blender

Frying pan

Cooking pan
ingredients
Cheese sauce
75 g raw cashews 65 g macadamias
1 medium peeled carrot steamed or roasted (80 g)
15 g nutritional yeast
1 tsp white or cider vinegar
120 ml milk (I use soy milk)
1½ tsp salt
1 tsp onion powder
¼ tsp ground nutmeg
40 g shredded cheese (optional)
Other
150 g macaroni (or you can put the sauce over veggies or use it as a dipping sauce)
1 broccoli (optional)
300 g chicken thigh (optional)
50 g bread crumbs (optional)
instructions
Completely cover the nuts in a bowl with water. Let soak anywhere from 2-6 hours, or refrigerate and soak overnight. Drain fully. 

Steam or roast the carrot.

Combine all ingredients for the sauce, and blend in a blender or with an immersion blender until completely smooth. Taste, and add extra seasonings (onion, salt, nutmeg, pepper) if desired.

Cook the macaroni and fry the chicken and broccoli.

Transfer the sauce, macaroni, broccoli and chicken to an baking dish. Carefully, mix it all together. Add extra cheese shreds if you like it really cheesy.

Optional: add bread crumbs on top and bake the dish for 5-10 minutes on 220 °C till the crumbs are turning brown.
notes
Vegan: add plant-based cheese or leave out the cheese. Seasoning: onion powder, nutmeg, salt & pepper
Nutrition
Sugar: 5gFiber: 3.5gCalories: 442kcalSaturated Fat: 4.9gFat: 25.6gProtein: 15.2gCarbohydrates: 40.3g
Have you tried this recipe?Share in on Instagram and tag
@eva.koper
!