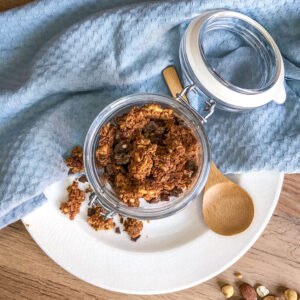 Homemade Granola
Homemade granola is 10 times better than a storebought one. I would definitely recommend to try this!You can add flavours of your own preference. I like my granola with chocolate and nuts.
ingredients
40 g agave syrup
60 g honey
40 oil
70 g mixed nuts
10 g puffed wheat (or puffed rice)
1 tsp vanilla extract
250 g oats
30 g chocolate pieces
instructions
Preheat the oven to 165 ° C.

Mix all ingredients together in a large bowl.

Cover a baking tray with the granola. Make sure it is a large whole so that you have whole chunks of granola.

Put it in the oven for 20-30 minutes.

Let it cool in the oven tray.

When cool, gently break into small pieces. Add the chocolate pieces.
notes
Vegan: replace the honey with agave syrup. Seasoning: Does not apply.
Nutrition
Sugar: 5.9gFiber: 2.6gCalories: 193kcalSaturated Fat: 1.7gFat: 8.7gProtein: 4gCarbohydrates: 25.9g
Have you tried this recipe?Share in on Instagram and tag
@eva.koper
!