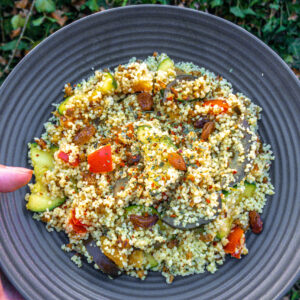 Moroccan Couscous
This recipe has so many flavour combinations; it has lots of veggies, the raisins and apricots add a sweet taste and it's also a bit spicy!
ingredients
70 g Moroccan vegetable couscous herbal paste (I use Fairtrade)
1 zucchini
1 eggplant
1 red pepper
1 onion
2 cloves garlic
100 g couscous
50 g dried apricots
50 g raisins
200 g minced meat (optional to use vegan minced meat)
400 ml water
instructions
Cut the zucchini, eggplant, apricots and bell pepper into cubes. Peel and chop the onion and garlic.

Bake the minced meat. Add the onion and garlic and fry for 2 min. At medium temperature.

Add the zucchini, eggplant, bell pepper, spice paste and the water. Bring to the boil over medium heat with lid for about 10 min. Stir occasionally.

 Meanwhile, put the couscous in a large bowl and add the required amount of water.

Add the raisins and apricots.
notes
Seasoning: spice the minced meat with cayenne pepper, salt and black pepper.  Vegan: Use vegan minced meat instead of minced meat. 
Nutrition
Sugar: 54gFiber: 25.2gCalories: 734kcalSaturated Fat: 0.4gFat: 2.8gProtein: 38.4gCarbohydrates: 141.5g
Have you tried this recipe?Share in on Instagram and tag
@eva.koper
!