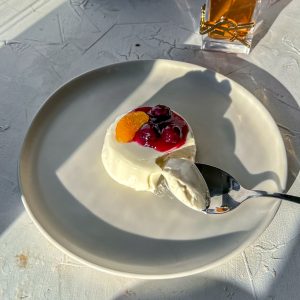 Orange Blossom Panna Cotta with Lavender Black Berries
welcome to my new series where I turn perfurms into a desserts! I started paying attention to the scents/notes in perfums, and a lot of them are main ingredients in recipes! 🍒🥥🌹 I started with one of my favorite perfums, YSL Libre and turned it into a panna cotta! 🍮 I am honestly so proud of the result!
ingredients
Panna Cotta
360 ml (soy) heavy whipped cream
40 g agave syrup
1 vanilla bean
3 gelatin sheets
4 tbsp orange blossom water
280 g (lactose-free or soy) Greek yoghurt
Lavender Blackberry sauce
1 tbsp cornstarch
220 ml orange juice
20 g agave syrup
125 g blackberries (fresh or frozen)
½ vanilla bean
1 tsp lavender (dried or fresh)
Caramelised Tangerine
1 can tangerine
2 tbsp white sugar
instructions
Panna Cotta
Soak gelatin sheets in a bowl of cold water for 5 minutes.

Combine the cream, agave syrup and vanilla in a small saucepan and bring to a simmer. Remove saucepan from heat and set aside.

Lift the gelatin sheets from the cold water and wring gently to remove excess water. Add the gelatin sheets to the warm cream mixture and stir until they melt completely.

Whisk in the orange blossom water and yogurt until well combined.

Divide the cream mixture among six ramekins. Cover and refrigerate for at least 6 hours or overnight for the panna cotta to set.

After the panna cotta has set. Take it out of the ramekins and serve it with the lavender blackberry sauce and the caramelized tangerine. 
Lavender Blackberry sauce
Wash and remove any stems from the blueberries. Using a (disposable) tea bag or a tea strainer to wrap the lavender up in a bundle.

To a sauce pan add the cornstarch. Very slowly stir in the orange juice, working out any lumps as you go. 

Add the blackberries to the pan along with the vanilla, lavender tea bag, and agave syrup.

Place over a medium heat and bring to a gentle simmer, stirring frequently, until it starts to get nice and thick. The colour will look a bit odd at first but will get more and more purple as the sauce cooks. 

Once the sauce is dark purple and thick and the blackberries have broken down remove from the heat. This should take 10 to 15 minutes.

Add a tablespoon or two of water to thin if it gets too thick. I recommend adding the water in or over the lavender and let it set. This will add more lavender flavor. Leave the lavender in the sauce for 2-4 hours. 
Caramelised Tangerine
Place the tangerine pieces on a plate. Dry them with kitchen paper.

Cover each of them with sugar and blowtorch them till they caramelize. 
Have you tried this recipe?Share in on Instagram and tag
@eva.koper
!