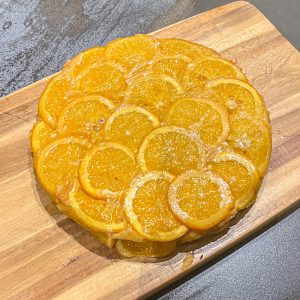 Orange Cake
ingredients
Candied Orange
200 g honey
237 ml water
2 cardamon pods (crushed or ¼ teaspoon ground cardamon)
3 oranges (thinly sliced)
Cake Batter
2 eggs
60 g agave syrup
¼ salt
40 g extra-virgn olive oil
30 g greek yoghurt (lactose free)
1 tsp vanilla extract
2 tsp orange zest
2 tbsp orange juice (freshly squeezed)
⅛ tsp baking soda
½ tsp baking powder
95 g all purpose flour
instructions
Wash the oranges. Cut them in thin slices 3-5 mm. A sharp knife is key here! I recommend, if you don't like skin of the oranges, to cut them off. Make sure you're using sweet oranges.

Combine the honey, water and cardamom in a sauce pan. Once the mixture comes to a boil, turn the heat to medium low, add the sliced oranges to the saucepan and let them simmer for 15 minutes. 

While the orange slices are simmering, preheat the oven at 175°C. 

Beat the eggs, agave syrup and salt until the mixture becomes pale, light and fluffy. Slowly drizzle the olive oil in the egg mixture, while constantly mixing everything together. Add the vanilla extract, orange zest, orange juice, cardamom, and baking soda to the mixture mix them in using a spatula. 

In a separate bowl, whisk the baking powder and flour together. Sift them the egg mixture, then gently fold the dry ingredients using a spatula. 

Oil a 20 cm diameter springform pan and line the bottom and the sides of the pan with parchment paper. 

Arrange all the orange slices on the bottom and on the sides of the pan (they can layer each other). Gently pour the cake batter in the pan, over the orange slices, then place it in the oven. Place another tray underneath the springform pan to catch any potential sugar syrup drops. Bake the cake for 30-35 minutes. 

Allow the cake to cool off for at least 10 minutes. Brush the remaining orange cardamom syrup on top of the cake or if you like a sweeter version, brush it with honey or agave syrup.
Have you tried this recipe?Share in on Instagram and tag
@eva.koper
!