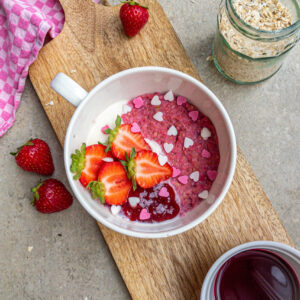 Pink Oats
On Friday we eat pink! With sparkles (of course). The oats are coloured with beet juice so it's a natural colouring and it also gives a sweet taste! I do recommend to top it with some yoghurt, strawberries and SPRINKLES!
ingredients
100 g oatmeal
3 tbsp beet juice
300 ml milk (depends on your own preference)
2 tbsp potein powder (optional)
instructions
Put the oatmeal and protein powder in a container and mix.

Add the milk and beet juice, and stir.

Warm it up!

Decorate with yogurt, strawberries and sprinkles.
notes
Vegan: use almond milk and vegan protein powder.  Seasoning: does not apply. 
Nutrition
Sugar: 7.8gFiber: 5.1gCalories: 317kcalSaturated Fat: 2.5gFat: 6.7gProtein: 21.8gCarbohydrates: 43.2g
Have you tried this recipe?Share in on Instagram and tag
@eva.koper
!