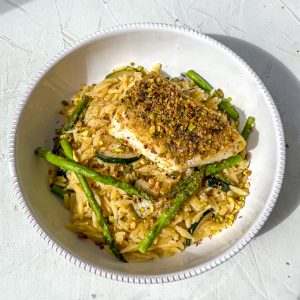 Pistachio Cod Orzo
As you know I'm OBSESSED with pistachios, so here we go again 👏🏼 but for real, the pistachio crumbled cod in combination with the orzo is amazinggg 🤯
Equipment
food processor

Baking dish

Frying pan

Oven
ingredients
Cod
2 pieces cod
30 g pistachio (no shell)
20 g breadcrumbs
3 springs parsley
½ tsp lemon zest
½ tsp salt
¼ tsp black pepper adjust to taste
Orzo
600 ml water
1 cube chicken or vegetable stock
300 g orzo
3 cloves garlic
300 g green asparagus
1 courgette
lemon
parmesan
Salt
Pepper
instructions
In a food processor, mix the pistachios, breadcrumbs, parsley, lemon zest, salt and pepper.

Sprinkle olive oil in a baking dish. Place the cod in the baking dish. Cover it with olive oil and place the pistachio crumble on top. Press it so it doesn't fall off. Springle the rest of the crumble all over the baking dish. Bake for 10-15 minutes on 200C.

Bring water to boil and add the stock cube. Add the orzo and cook till all the water is obsorbed.

In the meantime, fry the garlic till golden. Stir in the courgette and lastly the asparagus.

Add a little bit of olive oil, lemon juice, salt, pepper and vegetables to the orzo.

Place the cod on top and sprinkle it with parmesan, and the left over crumble you baked in the baking dish with the fish (this gives a lot of flavor!).
Have you tried this recipe?Share in on Instagram and tag
@eva.koper
!