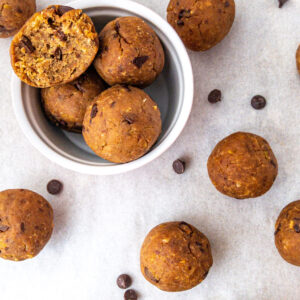 Protein Chocolate Chip Cookiedough Balls
These are my absolute favorite snack!! They are vegan, all natural ingredients, only 90 kcal and 5 g of protein per ball, and most important of all: they really taste like cookie dough!!!
ingredients
265 g chickpeas (1 can drained and rinsed)
125 g peanut butter
85 g maple syrup (or any other liquid syrup)
1 tsp vanille extract
½ tsp almond extract (not needed, but definitely adds flavour)
25 g oat flour
15 g protein powder
1 pinch salt
1 hand dark chocolate chips (or cut a chocolate bar into pieces)
instructions
Put all the ingredients in a food processor, blender or use a hand blender.

Add some extra chocolate chips after blending.

Make balls of the dough and sprinkle some more salt on it.

Store in the fridge! The balls will stay fresh for 1-2 weeks.
Nutrition
Sugar: 2.2gFiber: 0.8gCalories: 90kcalSaturated Fat: 1.4gFat: 5.9gProtein: 5gCarbohydrates: 6.4g
Have you tried this recipe?Share in on Instagram and tag
@eva.koper
!