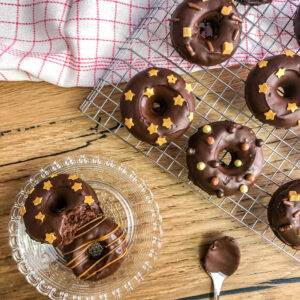 Protein Donuts
Delicious chocolate flavour donuts! High in protein which make it a perfect snack! Make sure you add some cute sprinkles.
Equipment
Oven/donut machine

Donut tray
ingredients
Dry ingredients
125 g oat flour
60 g protein powder (best to use chocolate flavour, but I used vegan soy protein)
2 tbsp cacao powder
1 tsp baking powder
1/4 tsp baking soda
8 g vanilla sugar
Wet ingredients
235 ml warm milk
3 tbsp smooth peanut butter
3 tbsp packed pitted dates (45 g)
1 pinch sea salt
1 egg
Frosting
100 g chocolate chips (melted)
instructions
You can use a donuts maker as I did or use a doughnut pan or muffin pan. In that case, preheat your oven to 175°C. 

Whisk the dry batter ingredients together in a large mixing bowl. Separately, blend the wet batter ingredients until smooth.

Add the wet mixture to the dry and fold gently to combine. When the batter is just combined without any wet streaks or dry clumps, stop. Over-mixing can result in tough, chewy doughnuts; not what we're going for here!

Transfer the thick batter to a piping bag. Lightly grease your doughnut pan/machine. Pipe the batter in evenly and bake in your preheated oven for 25 - 30 minutes or for 5-10 minutes in the machine. Let cool before glazing.

Melt the chocolate chips and dip the donuts in it. Sprinkle it with some cute sprinkles.

To freeze, place the doughnuts on a parchment-lined freezer-safe dish/baking sheet. Freeze until solid to the touch.
notes
Vegan: not possible. Seasoning: does not apply.
Nutrition
Sugar: 8.9gFiber: 2.7gCalories: 155kcalSaturated Fat: 2gFat: 4gProtein: 8.9gCarbohydrates: 22.1g
Have you tried this recipe?Share in on Instagram and tag
@eva.koper
!