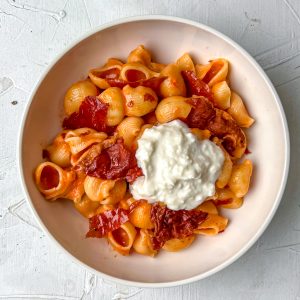 Roasted Paprika Pasta with Crispy Prosciutto di Parma
Omg this pasta recipe has so much flavor!! 😍 the crispy prosciutto enhances the roasted flavor of the bell pepper so much, it kinda gets a smokey flavor! 🔥
ingredients
3 bell peppers
1 onion
3 cloves garlic
100 ml (oat) milk
5 g basil
80 g prosciutto di Parma
150 g pasta (I used Pipe Rigate)
instructions
Preheat the oven at 200 °C.

Cut the onion and bell pepper in big pieces. Place them together with the garlic on a baking tray. Make sure they are lightly covered with oil, salt and pepper. Bake for 20 minutes, turn the vegetables around and bake for 10 minutes.

In the meantime, cook the pasta and fry the prosciutto till crispy in a frying pan.

Once the vegetables are done, put them in a blender together with the milk and basil. Blend it till smooth.

Add the sauce to the pasta and add the prosciutto.
Have you tried this recipe?Share in on Instagram and tag
@eva.koper
!