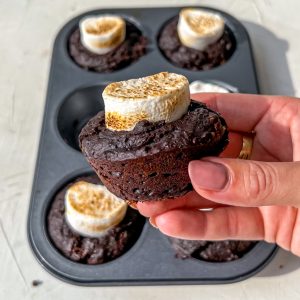 S'Mores Brownie Cups
Brownie filled with strawberry & roasted marshmallow! I created this with my favourite brownie recipe (no worries you can't tell there is zucchini in it, it just gives it the perfect texture)!
ingredients
Brownie
250 g pitted dates
75 ml sunflower oil
75 g greek yoghurt
1 tsp vanilla extract
2 eggs
75 g oat flour
75 g (raw) cacao powder
2 tsp baking powder
1 pinch sea salt
100 g zucchini (grated)
50 g 75% dark chocolate (25 g grated, 25 g cut into cubes)
Toppings
8 strawberries (cut into slices)
12 marshmallows (vanilla)
instructions
Brownie
Soak the dates in water for at least 20 minutes.

Preheat the oven to 180 degrees. Grate the zucchini and line an oven dish / baking pan with baking paper.

Mix the dates, sunflower oil, greek yoghurt and eggs in a blender or food processor. Add the oat flour, cocoa, vanilla extract, pinch of sea salt and baking powder and make sure it is well mixed. Finally, stir in the zucchini, chocolate.

Pour the mixture into the 12 muffin cups of the muffin tin and bake for about 20 minutes. In the meantime, cut the strawberries in slices.

Take the brownies out of the oven, do not let them cool down, and push a small spoon or shot glass 2/3 into the brownie to create cups.

Fill the cups with 1 slice of strawberry & 1 marshmallow. Toast the marshmallow with a blowtorch.

The cups are best served warm, so the marshmallow is melted.
notes
Vegan: not possible. Seasoning: does not apply.
Nutrition
Sugar: 8.1gFiber: 4.1gCalories: 184kcalSaturated Fat: 2.2gFat: 10.1gProtein: 4.2gCarbohydrates: 24.3g
Have you tried this recipe?Share in on Instagram and tag
@eva.koper
!