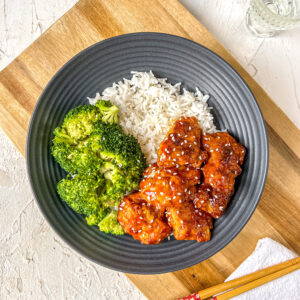 Sticky Crispy Chicken
There is nothing better than a crispy chicken with a sweet caramelized sauce!The sauce has an umami flavor with a sweet twist.
ingredients
Chicken
2 eggs
30 g cornstarch
100 g all-purpose flour
3 chicken breast fillets
½ tsp salt
½ tsp pepper
½ tsp garlic
2 tsp paprika
Sauce
2 cloves garlic
1 tbsp chinese rice vinegar (or white vinegar)
2 tbsp honey
2 tbsp sweet chili sauce
3 tbsp ketchup
4 tbsp soy sauce
Additional
1 broccoli
1 red bell pepper
2 tbsp sesame seeds
1 small bunch spring onion
instructions
Preheat the oven at 220 °C.

Cut the chicken in big pieces, put them in a bowl and add the cornflour. Make sure all the chicken pieces are covered with the cornflour.

Beat the eggs and add them to the chicken. All chicken should be covered with egg wash.

Finally, add all the spices to the flour and dredge the chicken in the seasoned flour. Place the pieces on a baking tray.

Put the chicken pieces in the oven for 20 minutes.

Meantime, cut the broccoli and red bell pepper. Cook the rice and broccoli.

Add all of the sauce ingredients to a frying pan, stir and bubble on a high heat until the sauce reduces by about a third (should take 2-3 minutes). 

Add the chicken, broccoli and red bell pepper to the sauce and toss in the sauce to coat. Cook for 1-2 minutes.

Top it off with some sesame seeds and spring onions.
notes
Vegan: use tofu instead of chicken Seasoning: does not apply The nutrition facts are for 1 serving of the recipe.
Have you tried this recipe?Share in on Instagram and tag
@eva.koper
!