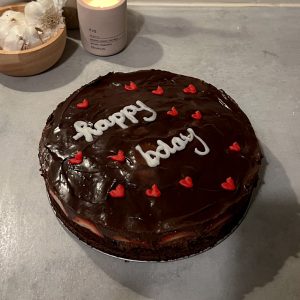 Strawberry Chocolate Olive Oil Cake
This is the recipe I made for my birthday cake!! 🎈 The olive oil enhance the chocolate flavour in the best way!
ingredients
Cake Batter
3 eggs
90 g agave syrup
½ salt
80 g extra-virgn olive oil
60 g greek yoghurt (lactose free)
2 tsp vanilla extract
2 tbsp orange juice (freshly squeezed)
⅛ tsp baking soda
½ tsp baking powder
1½ tbsp cocoa powder
95 g all purpose flour
Topping
300 g strawberries (cut in half)
170 g dark chocolate
150 ml (oat) milk
instructions
Preheat the oven at 175°C. 

Beat the eggs, agave syrup and salt until the mixture becomes pale, light and fluffy. Slowly drizzle the olive oil in the egg mixture, while constantly mixing everything together. Add the vanilla extract, almond milk, and baking soda to the mixture mix them in using a spatula. 

In a separate bowl, whisk the baking powder, cocoa powder and flour together. Sift them the egg mixture, then gently fold the dry ingredients using a spatula. 

Oil a 20 cm diameter springform pan and line the bottom and the sides of the pan with parchment paper. 

Gently pour the cake batter in the pan, then place it in the oven. Bake the cake for 30-35 minutes. Allow the cake to cool off for at least 10 minutes.

In a sauce pan heat up the milk. Ones it is hot, add the chocolate, keep stirring till it has melted. 

Cover the cake with the strawberries and spread the dark chocolate on top. Let the chocolate harden overnight.
Have you tried this recipe?Share in on Instagram and tag
@eva.koper
!