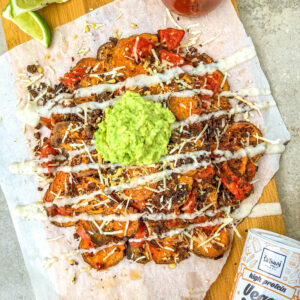 Sweet Potato Nachos
Sweet potato nachos with my own healthy twist! Perfect for sharing, but of course it is possible to keep it all for yourself!
ingredients
300 g sweet potato
200 g (vegan) minced meat
3 tomatoes
1 avocado
115 g salsa
30 g Vegan grated cheese (not in the mood for vegan? Use regular cheese)
1 tbsp Garlic Mayo
1 tbsp Chipotle Barbacoa Seasoning
instructions
Preheat the oven to 200 ˚C.

Cut the sweet potato into thin slices. Place them well spread out on a tray.

Sprinkle the sweet potato with sunflower oil, salt, paprika powder and black pepper. Put them in the oven for 20/30 minutes.

Meanwhile, season the minced meat with Chipotle Barbacoa seasoning and bake until done.

Cut and mash the avocado.

Cut the tomato into cubes and mix it with the salsa.

When the sweet potato is ready, take 1/3 of the sweet potato and cover the baking dish. Top with a layer of minced meat, vegan cheese shaker, vegan cheese and salsa / tomato. Put another layer of sweet potato on top and so on.

Put the nachos in the oven for 5/10 minutes.

Put the avocado on the nachos along with the garlic mayonnaise.
notes
Vegan: use vegan minced meat. Seasoning: salt and black pepper.
Nutrition
Sugar: 16.8gFiber: 18.7gCalories: 437kcalSaturated Fat: 2.4gFat: 17.5gProtein: 19.4gCarbohydrates: 54.3g
Have you tried this recipe?Share in on Instagram and tag
@eva.koper
!