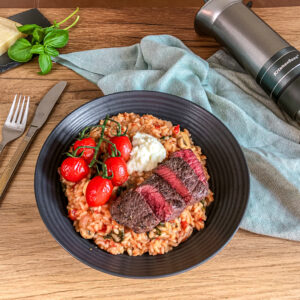 Tomato Risotto with Steak
A delicious tomato risotto topped with a steak. The steak is cooked with
Kitchenboss Sous-Vide
, which makes cooking so easy!
If you do not have a sous-vide, no worries.
Equipment
Frying pan

Cooking pan

Kitchenboss Sous-Vide
ingredients
1.5

cloves

garlic

(finely chopped)

1

onion

(chopped)

150

g

risotto rice

35

ml

white wine

0.7

L

vegetable stock

20

g

grated Parmesan cheese

800

g

tomatoes

200

g

mushrooms

5

leaves

basil

30

g

butter

100

g

spinach

75

g

burrata

(optional)

2

steak
instructions
Kitchenboss Sous-vide Steak
Place the Kithenboss Sous-vide on a cooking pan with water, turn it on, and select the steak programma.

Place the steak in a vacuum bag with olive oil, salt and pepper. Make sure there is as little air in it as possible.

Secure the bag with a clothespin to the cooking pan and let it cook for 1 hour (if you prefer medium/rare).

Prepare the risotto in the meantime. Once the steak is done, bake it for no longer than 30 sec. each side to give it a nice brown color.
Risotto
Heat a little oil and butter in a deep pan. Fry the garlic and onion until fragrant.

Add the rice and fry the grains until they start to look translucent. Add the wine, let the rice absorb the wine completely.

Cut the tomatoes in small cubes and add them to the vegetable stock.

Make sure your stock is warm. Always add a generous tablespoon of the stock to the rice. Stir well and let the rice almost completely absorb the stock before adding another spoon. Keep doing this until the rice is cooked but still has a bit of bite.

As soon as the risotto rice is cooked, stir the mushrooms, Parmesan cheese, fresh basil and a knob of butter into the rice. Heat this until the cheese and butter have melted.

Finally, serve the risotto with the burrato and steak on top.
notes
Vegan: use vegan butter and wine. Leave out the parmesan, burrata and steak.  Seasoning: salt and peper
Nutrition
Sugar:
2.9
g
Fiber:
6.5
g
Calories:
604
kcal
Saturated Fat:
12.4
g
Fat:
31.7
g
Protein:
16.4
g
Carbohydrates:
68.4
g
Have you tried this recipe?
Share in on Instagram and tag @thestdntchef!