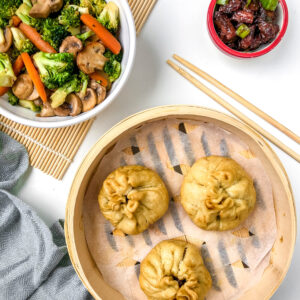 Turkey Bao Buns
These look hard to make, but are actually quite easy. The filling is made of turkey, which makes it high in protein and low in fat!
ingredients
The dough
160 g all purpose flour
40 g cornstarch
¼ tsp salt
2 tsp baking powder
125 ml coconut milk
The filling
1 garlic clove
½ thumb sized ginger
200 g lean turkey bacon
2 tsp sesame oil
3 tbsp hoisin sauce
1 tbsp rice vinegar
1 tsp soy sauce
2 el agave syrup
20 g chopped spring onion
½ tl cayenne pepper
1 tl onion powder
Serve with
250 g mushrooms
1 broccoli
100 g carrots
instructions
Heat some oil in a pan and add in grated garlic and ginger. Cook until golden brown. Add the turkey, cook till crispy. 

Place the turkey into a bowl, discard any juice if any. Add the rest of the ingredients and mix well. Cool completely before using.

Add all of buns ingredients into a food processor. Blend until everything comes together. Knead into a dough and form into a log. 

Cut into 8 equal pieces and form into a ball. Cover the dough with cling film when not using to prevent from drying.

Take a ball and flatten it a bit. Roll into a 9 cm disk with a thinner edges all around. You can do this by keep rolling ⅓ in to the center and twisting the dough. 

Place the dough on your palm and spoon some filling in the middle. Take one edge and bring it to the center and then keep pleating and pinching the rest of the edges, leaving a small hole in the middle (I would recommend to watch a video on how to do this). 

Bring some water to a boil on high medium heat. The water should not be touching the bottom of your bamboo steamer.

Arrange the filled buns in your steamer. Place the steamer on the pan for 10 minutes or until are fully cooked. Cut and cook the vegetables in the meantime. 
notes
Vegan: use tofu instead of turkey bacon. Seasoning: no additional seasoning needed. 
Nutrition
Sugar: 5.4gFiber: 2.2gCalories: 205kcalSaturated Fat: 3.5gFat: 6.1gProtein: 8.8gCarbohydrates: 27.8g
Have you tried this recipe?Share in on Instagram and tag
@eva.koper
!