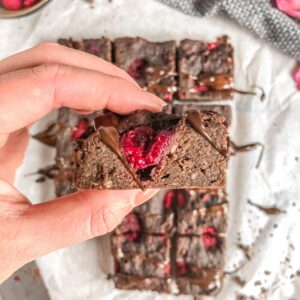 Valentine High-Protein Raspberry Brownie
The perfect brownie to make for your love (or to just eat by yourself)It is high in protein and super sweet, with the combination of raspberry and chocolate.
ingredients
30 g cocoa powder
25 g protein powder
20 g oat flour
1 tl baking powder
100 g 70% dark chocolate (60 grated, 40 g cut in pieces)
600 g bananas (mashed)
30 g agave syrup
120 g peanut butter
120 g almond butter
50 g raspberries (fresh or frozen)
instructions
Preheat the oven at 175 °C.

Mash the bananas.

Mix the cocoa powder, protein powder, baking powder and oat four.

Stir in the mashed bananas, agave syrup, peanut butter and almond butter. Lastly, stir in the chocolate and raspberries.

Once combined, spread the mixture in the baking tin.

Bake for 20-30 min. Let it rest for 10 minutes before cutting.
notes
Vegan: use plant-based protein powder. Seasoning: add a pinch of salt. 
Nutrition
Sugar: 12.1gFiber: 7.8gCalories: 222kcalSaturated Fat: 2.9gFat: 11.7gProtein: 7.4gCarbohydrates: 26.7g
Have you tried this recipe?Share in on Instagram and tag
@eva.koper
!