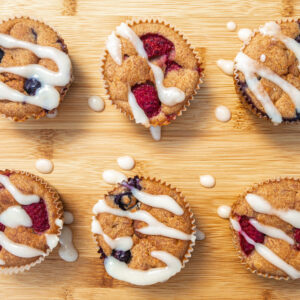 Vegan blueberry/raspberry muffins
The strange thing about it recipe is that they are becoming better throughout the day, instead of when they just came out of the oven?! They go from AMAZING to THE BEST VEGAN MUFFINS!
ingredients
195 g flour
¼ tsp salt
2 tsp baking powder
⅓ tsp baking soda
4 tsp stevia
1 ripe banana (mashed)
250 ml almond milk
6 tbsp vegan butter (melted)
80 g agave syrup
190 g blueberries/raspberries
instructions
Preheat the oven to 200 °C.

Mix the flour, salt, baking powder, baking soda and stevia.

In a seperate bowl, mix the banana, almond milk, butter and agave syrup.

Mix everything together and add the blueberries or raspberries.

Pour the mix into 8 - 10 cups.

Bake for 25 minutes.
notes
Optional to add some vanilla glaze on top. Or mix some yoghurt, vanilla extract and agave syrup together. 
Nutrition
Sugar: 4.2gFiber: 1.9gCalories: 238kcalSaturated Fat: 9.8gFat: 13.3gProtein: 2.9gCarbohydrates: 28.9g
Have you tried this recipe?Share in on Instagram and tag
@eva.koper
!