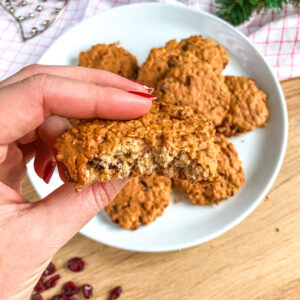 White Chocolate Cranberry Oatmeal Cookies
The best flavor for a oatmeal cookie; white chocolate with cranberry! The cookies are crispy from the outside and soft on the inside.
ingredients
200 g oatmeal
50 g applesauce
100 g butter
50 g drops of Natrena
100 g agave syrup
200 g self-raising flour
50 g dried cranberries
1 egg
1 tsp vanilla extract
1 tsp baking powder
1 tsp cinnamon
pinch of salt
pinch of baking soda
50 g white chocolate
instructions
Preheat the oven to 180 degrees.

Mix the oatmeal, self rising flour, baking powder, cinnamon, salt and baking soda.

In another bowl, knead the applesauce, butter, juice, agave syrup and egg.

Knead everything together and mix in the cranberries and white chocolate.

Bake the cookies for 15 - 20 minutes until golden brown.

The cookies are best warm, so warm them up in the oven before eating.
notes
Vegan: not possible. Seasoning: does not apply.
Nutrition
Sugar: 2.6gFiber: 2gCalories: 196kcalSaturated Fat: 4.3gFat: 7.8gProtein: 3.9gCarbohydrates: 27.5g
Have you tried this recipe?Share in on Instagram and tag
@eva.koper
!