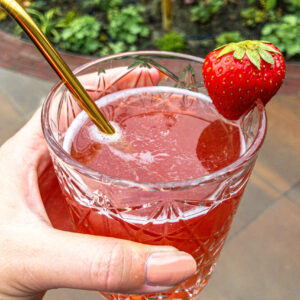 Low Kcal Strawberry Vodka Cocktail
This cocktail contains only natural sugars and no more than 100 kcal per glass! So no need to feel quilty after a whole night of drinking!
ingredients
12 strawberies
1 tsp honey
350 ml sparkling water
150 ml vodka
instructions
Cut the strawberries into 4 pieces. Boil the strawberries with 8 tbsp water in a pan for about 10 min. Add the honey.

Strain the strawberries and collect the juice. Allow to cool.

Put the strawberry juice in a jug. Add spa red. Then add the vodka little by little. Start with 100 ml, taste, and if you want it stronger, add more. (Obviously, I have added an extra bit)

Put a handful of ice and 2 strawberries in a glass and add the drink.
Nutrition
Sugar: 3.2gFiber: 0.7gCalories: 98kcalFat: 0.1gProtein: 0.3gCarbohydrates: 4.2g
Have you tried this recipe?Share in on Instagram and tag
@eva.koper
!