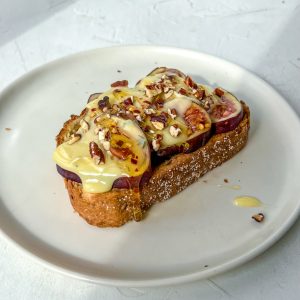 Baked Camembert Fig Sandwich
ingredients
1 good quality camembert (the cheap ones will not melt properly)
1½ spring rosemary
2 twigs thyme
4 slices bread
4 figs
10 g pecan nuts (roasted)
2 tsp honey
2 tbsp chili honey (chili flakes mixed with honey)
instructions
Preheat the oven on 180°C.

Remove the packaging and arrange the Camembert in a small baking pot.

Score a deep cross or a crosshatch pattern on the top rind of the cheese.

Cut the rosemary springs into pieces and place them in the crosshatch pattern. Sprinkle fresh thyme leaves on top.

Place in the oven for 15-20 minutes or till melted.

In the meantime, cut the figs in slices, roaster the pecan nuts in a pan and toast the slices of bread.

Place the bread on a plate, assemble fig slices on top. Take the camembert out of the oven and place it on top. Add the roasted pecan nuts and finish with a drizzle of chili honey.
Have you tried this recipe?Share in on Instagram and tag
@eva.koper
!