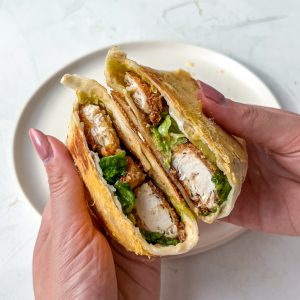 Crispy Chicken Parmesan Crusted Caesar Wrap
Sorry for the long recipe but I just had to fit all the amazing goodies into the same 😂 this tortilla is filled with crispy chicken & a Caesar salad, and has a crispy Parmesan crust 😍
ingredients
Crispy Chicken
300 g chicken fillets
1 egg
100 g breadcrumbs (Panko mixed with regular)
Salad
150 g romaine lettuce
Caesar dressing (1 tbsp mayonaisse, 1 tsp lemon juice, 1 tsp dijon mustard, ¼ tsp salt, ¼ tsp black pepper, 1 clove garlic, 15 g Parmesan)
2 tortilla wraps
4 anchovies (optional)
50 g Parmesan
instructions
Cut the chicken fillets in medium pieces, not too small, not too big. Dip it in the egg wash and cover them with breadcrumbs. 

Fry in a frying pan till golden brown.

In the meantime, mix together the mixture for the salad. 

If the chicken is done, fill the tortillas with salad, anchovies, and the crispy chicken. Fold to close it. 

Spinkle Parmesan in a pan on medium heat. Place the tortilla directly in it. Fry till crispy. Move the tortilla to one side of the pan, sprinkle more parmesan on the other side of the pan and flip the tortilla in it. Fry again till crispy.
Have you tried this recipe?Share in on Instagram and tag
@eva.koper
!