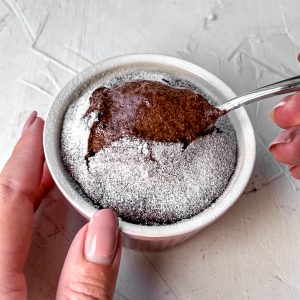 Chocolate Mousse Cake
The combination of chocolate cake and chocolate mousse in one dessert. A creamy chocolate cake filled with a chocolate mousse!
ingredients
60 g (soy) butter
85 g dark chocolate
25 g cacao powder
5 tbsp (almond) milk
2 eggs
2 egg yolks
3 tbsp agave syrup
1 tsp vanilla extract
1 pinch salt
2 tbsp all-purpose flour
instructions
Preheat the oven at 230°C.

Melt the chocolate and butter by placing a bowl on top of boiling water. Keep on steering to make sure the butter and chocolate mix properly.

In a small bowl, mix the cacao powder and milk. Mix till smooth, it should be as thick as the melted chocolate.

In a different bowl, whisk the eggs, egg yolks, agave syrup and vanilla extract with a handmixer.

Carefully stir in the melted chocolate and cacao powder mixture in the egg mix.

Add the salt and flour. Stir again till smooth.

Butter 6 ramekins, add a table spoon flour to each ramekin and make sure it fully covered with flour. Throw away the leftover flour.

Add the batter into the ramekins and bake for 7-8 minutes.

Let it rest for a few minutes. Top with powdered sugar.
Have you tried this recipe?Share in on Instagram and tag
@eva.koper
!