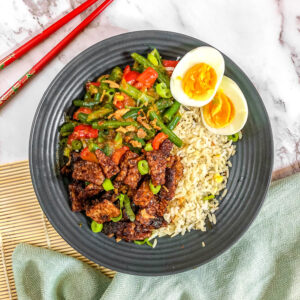 Crispy Tempeh with Sajoer Beans
This is absolutly my fav thing when I get take-away. A sweet crispy tempeh with sajoer beans in coconut milk. Of course it's even better when you make it yourself! They are also delicious as snack!
ingredients
Crispy tempeh
200 g tempeh
1 onion
1 clove garlic
½ tsp shrimp paste
1 tbsp sambal oelek
3 tbsp sweet soy sauce (ketjap)
½ tbsp agave syrup (can be replaced with honey, maple syrup or sugar)
1 tsp lemon juice (or ½ lemon)
1 tsp laos (optional)
Green beans
400 g green beans
1 red bell pepper
60 g sajoer bean curry paste
100 ml coconut milk
instructions
Cut the tempeh into thin strips or small cubes. Meanwhile, also cut the green beans, onion garlic and bell pepper.

Heat oil in a frying pan, the whole bottom can be covered with oil. Fry the tempeh until brown and crispy. Let them drain on kitchen paper.

Remove the oil from the pan and fry the onion, garlic, loas, sambal and shrimp paste. Add the soy sauce, agave syrup and lemon juice. When it starts to bubble add the tempeh.

In another pan, fry the green beans and bell pepper. You can also cook the green beans. When they are done, add the curry paste and coconut milk.

Meanwhile cook the rice and eggs. (I did this in the same pan).
notes
Vegan: leave out the egg.  Seasoning: No need for any additional seasoning. The paste and tempeh give a lot of flavour. 
Nutrition
Sugar: 12.1gFiber: 12.5gCalories: 769kcalSaturated Fat: 9gFat: 25.2gProtein: 37.8gCarbohydrates: 104.9g
Have you tried this recipe?Share in on Instagram and tag
@eva.koper
!