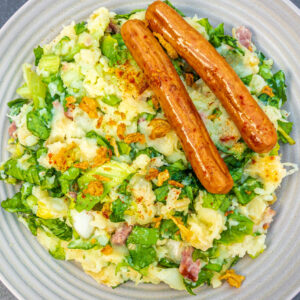 Endive stew with parsnip
A typical Dutch recipe called ''stamppot!'' The English translation is stew, however it is not quite the same. So, give it a try!
ingredients
1 parsnip
250 g potatoes
150 g turkey bacon
200 g endive
400 g chicken sausage (any other meat is also possible)
2 eggs
instructions
Peel and cut the potatoes and parsnips. Put it in boiling water for 20 min. After 10 minutes, add the egg to it.

Meanwhile, cook the chicken sausages and fry the bacon crispy.

Spoon the eggs out of the water and put them in cold water.

Mash the potatoes and parsnip into a puree. Add some milk or cooking cream to make it more creamy.

Mash the endive through the mashed potatoes together with the eggs. Spoon the bacon through carefully.

Optionally add gravy or mustard to give it more flavour.
notes
Seasoning: dried Provencal herbs, cumin, paprika powder, nutmeg, cloves, salt and pepper and garlic.  
Nutrition
Sugar: 5.6gFiber: 10gCalories: 502kcalSaturated Fat: 5gFat: 18.3gProtein: 37.2gCarbohydrates: 42g
Have you tried this recipe?Share in on Instagram and tag
@eva.koper
!