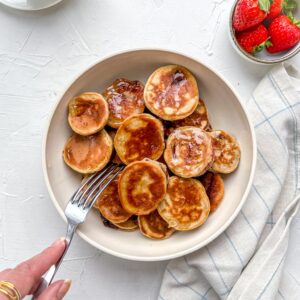 Mini Pancakes filled with Chocolate and Strawberry or Banana
High protein mini pancakes filled with strawberry or banana and melted chocolate. Every bite is just as perfect! In The Netherlands we call this Poffertjes!
ingredients
Pancake batter
70

g

oat flour

20

g

(soy) protein powder

(if you use regular, add 20 ml less milk)

1

tsp

baking powder

⅛

tsp

baking soda

2

egg whites

100

ml

(almond) milk

1

tsp

vanilla extract

1

tsp

agave syrup
Filling
250

g

strawberries

or 1 banana

2

tbsp

dark chocolate spread
instructions
Cut the strawberries or banana in slices. Place them on a kitchen paper and tap them dry. Let them rest while making the batter.

Mix the oat flour, protein powder, baking powder and baking soda together in a bowl.

Add the egg whites, milk, vanilla extract and agave syrup. Mix till smooth.

Tap the strawberries or banana again with kitchen paper. Spread the strawberry or banana slices with dark chocolate spread.

Dip the strawberries or banana in the batter with the chocolate side on top. Carefully place the batter on top of the chocolate side. Take the strawberry or banana out the batter with a fork.

Place it in a frying pan straight away. Fry the side with no chocolate and flip them carefully.
notes
Vegan: not possible Seasoning: optional to add a little bit of salt to the batter.
Have you tried this recipe?
Share in on Instagram and tag @eva.koper!