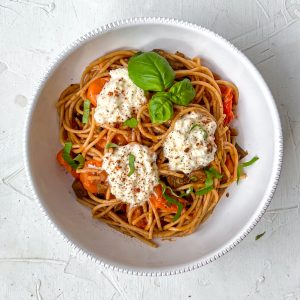 Pasta Alla Norma
My version of pasta alla norma 😍 aka pasta with aubergine 💜 roasting the eggplant is delicious, but if you don't have time for that, this is a perfect option xx 
ingredients
150 g spaghetti
400 g cherry tomatoes
1 aubergine (eggplant)
1 onion
2 cloves garlic
200 ml water
5 g fresh basil
instructions
Bring water to the boil and cook the pasta.

Cut the aubergine, salt it and let it rest.

In the meantime, cut the rest of the vegetables expect the tomatoes.

Fry the garlic and onion. Dry the aubergine with kitchen paper and add it to the garlic and onion. 

Add the tomatoes, and put a lit on it till the tomatoes are soft. Smash the tomatoes.

Add the water to create a sauce. You might need less or more water, so add it little by little.

Add the basil, Italian herbs, salt and pepper to flavor the sauce.

Top it with burrata and chili flakes.
Have you tried this recipe?Share in on Instagram and tag
@eva.koper
!